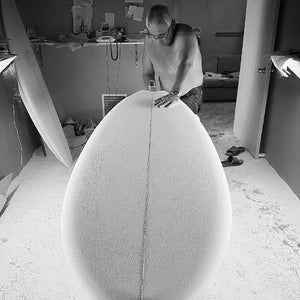 Gunther Rohn
"Blood, Sweat, and Tears."
Gunther Rohn is a name synonymous with the world of surfboards. His brand, Gunther Rohn Surfboards, has been an enduring force in the industry, producing boards that have propelled some of the world's finest surfers to victory for decades. The legacy of these boards stretches back to the 1980s and has been marked by numerous triumphs in both the WCT and WQS circuits.
One of the early highlights was Nicky Woods' remarkable victory at the Rip Curl Bells Beach Easter Classic in 1987, achieved at the tender age of 16 while riding Gunther's boards. These boards, including the iconic channel bottom and vee bottoms with set fins, became synonymous with excellence in the surfing world.
The list of surfers who have graced Gunther Rohn Surfboards is unparalleled, featuring names like Sunny Garcia, Jake Patterson, Trent Munro, Darren O'Rafferty, Pancho Sullivan, Anthony Walsh, and Dion Atkinson, among many others. Even legendary surfers such as Slater, AI, Curren, Pottz, and Dusty Payne have revelled in the experience of riding Gunther's boards.
Yet, Gunther Rohn's contribution goes beyond merely crafting boards. He takes pride in nurturing young talent, guiding them from their early junior titles to the highly competitive WQS and ultimately to the elite WCT. His global travels to surfing destinations such as Indo, Brazil, Hawaii, the US, Japan, and Europe, in collaboration with top-tier surfers, have allowed him to refine his designs and models, resulting in some of the world's most high-performance surfboards.
Boards like the G2 Pro, Kompressor 501, Icycool, V2 Rocket Fish, and Channel bottoms stand as testaments to Gunther's meticulous craftsmanship and design prowess. With over 40 years of experience in the industry and his personal touch involved in every board that leaves his factory, Gunther Rohn Surfboards guarantees that you'll receive the perfect board tailored precisely to your needs and abilities.
Testimonials
Always had the best boards off Gunther

Anthony Walsh
This Guy makes the best Guns

Rabbit
I wouldn't ride anything else. Gunther is one of the most experienced surfboard shapers/designers on the planet

Steve Kearney
You could waste your coin on another shaper. But you'll be back on a Gunther again.

MOFF
Gunther is one shaper you can talk to on the phone. Some of the others wouldn't give you the time of day, let lone advice. Thanks Gunther.

Jacko